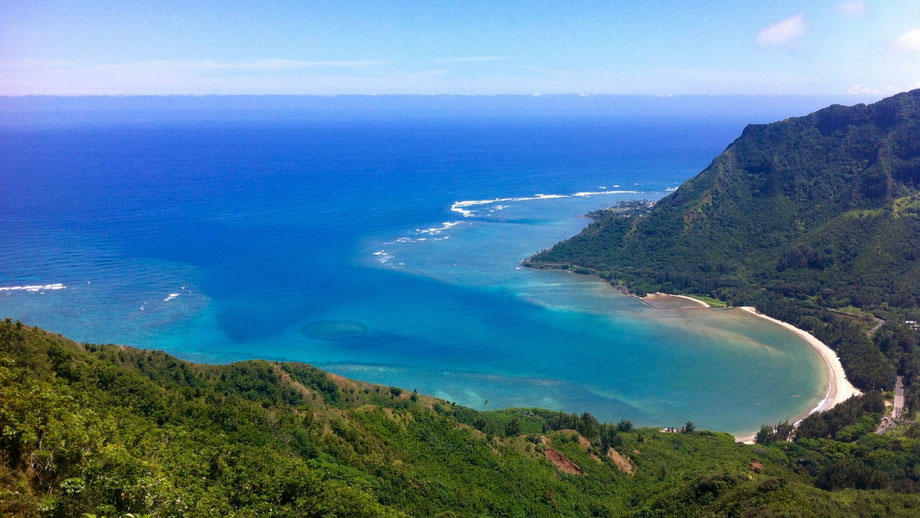 I started my first around-the-world trip in October 2015 and I planned the trip during the summer before. I specifically gave myself time to plan this journey since I didn't want it to end up in stress. In the end my first around the world trip lasted 10 months.
Before the Trip
Before I started my trip, I actually spend quite a lot of time thinking about the trip. I read lots of travel blogs, thought about possible routes and started planning what stuff I would need. This whole research just sparked my wanderlust and ensured me that I really want to travel for a year.
The most important questions that had to be answered were, where to go first?, how is the climate there?, and what do I have to be aware of traveling to this region?
I had 3 regions that I definitely wanted to visit. These were Australia, New Zealand und Southeast Asia. After looking at the climate in those 3 regions, I decided to start my trip in Southeast Asia, then travel to New Zealand and afterward to Australia. I had no idea how much time I would spend in Australia and where I would travel to afterward.
Flights
Booking the flight, was the first thing I did. After I had booked my flight, I knew this around the world trip was really happening. From there, I could plan everything else. 
To search for a flight, I prefer to use Skyscanner. I think it is one of the best tools to find cheap flights. You are able to have a monthly view and see which day is the cheapest to fly. And you also have the option to just type in your starting point and leave the destination blank. Then Skyscanner shows you where you can go and for how much. This is a great option to get some inspiration. I used this option to figure out where to go to after Australia. I ended up finding a pretty reasonable flight to Honolulu. So, the decision was made and I went to Hawaii. Always check the connection you found, on the actual homepage of the airline as well. Sometimes, they have an even better price available.
Luggage
My goal was to travel with as little luggage as possible. That's pretty relative and everybody has a different perception on little or small luggage, but for me, it meant that I wanted to travel with a carry-on size backpack only. I decided that I would stay in the warm weather and therefore, I didn't need to pack lots of warm clothes that take a lot of space. I also didn't pack any camping gear. If I would end up camping somewhere, I would just rent the gear or buy some gear if needed. For my time in Australia, I ended up buying a sleeping back, since I did some camping during the time there. I kept the sleeping back till Hawaii and then left it at a place where I couch surfed. 
On my first backpacking trip through Europe, I had a 60-liter backpack. I had packed way too much stuff and it was just a hassle to carry it around. This time, I only had a 40-liter backpack and another smaller bag. It is surprising how little stuff you need. During my whole trip, this backpack was perfectly fine and I am happy that I decided to travel just with a carry-on sized backpack. Here is a list of things that I had on my trip. 
Traveling with a carry-on sized luggage has numerous advantages. 
Less Luggage = Less to Carry

It's not unusual that you have to carry your luggage for a longer distance in order to get to your next accommodation. Of course, a smaller backpack is usually lighter as well and much more easy to carry. In Colombia, I was in a little mountain village called Minca. I stayed there in the beautiful Hostel Casa Loma. The problem is that you have to carry your luggage up the hill first. There are some pretty steep stairs and it goes 10min uphill. Everyone that arrives on the top, is usually drenched in sweat. Having a smaller and lighter backpack makes this climb definitely more bearable.
No Extra Charges for the Luggage
Most of the airlines, especially the cheaper ones, charge extra for your luggage. With those extra costs, the cheap flights aren't so cheap anymore. Usually, you have to add around $35-40 per piece. I was able to take my luggage as a carry-on on most of my flights and this saved me some money and the cheap flights stay cheap. I was able to fly from Brussels to Berlin for around $11. 
Saving Time
Since you don't have to drop-off your luggage, you can arrive later at the airport and when you checked in online, you can go straight to the security check. After the arrival at your destination, you don't have to wait for your luggage and can leave the airport right away. 
No Lost Luggage
When you don't check any luggage, the risk of losing it is a lot less. Also, when you travel by bus it is pretty nice to keep the luggage with you on the bus. Sometimes the luggage will be stored on the roof of the bus or van and it can happen that some backpacks fall down.
Health
Before starting your journey, you should definitely talk to your doctor about which regions you want to travel to and get the necessary vaccinations. It also important to have a health insurance for foreign countries.
Minimize Fix Costs
I tried to minimize my fix costs as much as possible during my trip. I subleased my room, canceled my German health insurance and other continuing costs of things that I didn't need during my travels.
During the Trip
The planning doesn't stop after you started your trip. It will continue throughout your whole trip, but you can choose how much you plan ahead. I didn't plan too much ahead, so I was more flexible and was able to decide pretty spontaneously.
Accommendation
Before starting your trip, you should think about how much money you are able to spend and a how long you want to travel. This basically defines your travel standard of staying in hotels or hostels. 
Since I wanted to be flexible, I booked my accommodation only a day or two in advance. Some people, don't even book any accommodation beforehand and try to find a place to sleep when they get to the new town. I tried this a couple times, but I rather know where to go in a new place. For me, it is a lot more relaxed to book a place a night in advance. I usually just booked for one or two nights and if I liked the place I added some more nights. During my travels, I had a mix of accommodations. I stayed at hostels, used Airbnb and Couchsurfing.
When, Where?
Personally, I view the travel planing as continuing process throughout the whole trip. Of course, you have some preparations in the beginning, but in the end is it the best to not plan too much beforehand. Especially, your route. I think my route changed at least 3-4 times and in the beginning, I would have never imagined how my actual route would look like. 
It is great to just see what happens and to go with it. If you plan too much ahead of time, you are less flexible and when you find a place that you really like, you can't just stay longer.
Conclusion
The trip planning is a continuous process throughout the whole trip. I personally like the planning part. It is fun to explore new options and try to find new destinations. If you plan a longer trip, you should take some time beforehand to handle your things at home. But you don't really have to plan a lot for the actual trip. You can do this from day to day.