Yes, it's true. For a short time I was traveling in Laos by bike. Alone and with all my luggage. Looking back, it was definitely one of the biggest adventures on my trip. Especially, since I didn't really know what to expect.
My first stop in Laos was in Luang Prabang and I stayed there for 5 days. The next destination was Vang Vieng and originally the plan was to take a minibus there. During my time in Luang Prabang, I rented a bike for 2 days to explore the surroundings. After the first day, I had a look online to find some routes and possible destinations for the second day. Online, I found a bunch of blog posts describing a bike tour from Luang Prabang to Vang Vieng over multiple days. According to these posts, the route is winding through the mountains and you are able to have amazing view during the tour. Of course, this sounded great. And since I missed biking around, I thought it would be amazing to do this tour by bicycle.
The search for a bicycle
First, I was looking for a bike tour that I could join. But since I wanted to start the trip the next day already and because I was just one person, it was very hard to find a tour. Another reason why I didn't do a tour was because of the price. A tour would have been over $1000 and that was a lot more money that I would have been willing to spend on this biking trip.
But I had also found blog posts from people that did the tour on their own. Therefore, I thought I could do the same. But for this, I needed a mountain bike first.
I went to various bike rentals and asked if it's possible to rent a bike and then return it in Vang Vieng at a partner shop. Unfortunately, no one was offering this option. One bike rental then gave me the option to rent a bike and then sent it back via bus once I arrived. This sounded like it could work. But then they told me they needed my passport as security and they would sent it back to me when they got their bike back safely. Of course, I didn't like the idea of leaving my passport at some random bike rental shop in Laos and therefore this option was also not possible.
So, that left only one other possible option. I would try to buy a mountain bike and then hopefully sell it again once I am in Vang Vieng. Buying a bicycle sounds pretty straightforward, but it's pretty difficult when there is no bike shop around. So, I went back to the rental places and asked if I could buy one of there bikes. Surprisingly, one of the shops agreed to it. Now, I was trying to pick out the best possible bike and then we were negotiating about the price. After some back and fourth, we agreed on a price and now I was the owner of a mountain bike in Laos. Since I wanted to start my trip the next day already, I went back to the hostel to pack up all my stuff.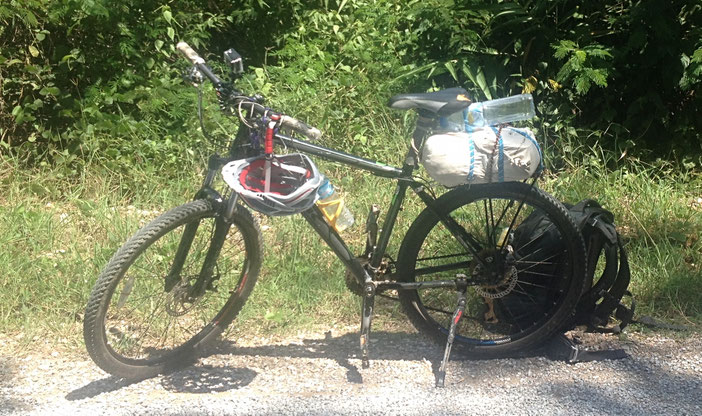 Let's go: Day 1
The next morning I was ready to go. I saved the blog-posts on my phone and marked the different stops on a map. In total, I was planning to take 4 days for the whole trip. I wanted to start early in the morning and planed on biking around 80km the first day. Before I could actually go on the trip, I had to run some errands. I needed a helmet and a luggage rack for the bike. I also get a local sim card, so I would have internet along the way and could get some help if needed. Unfortunately, getting all this stuff took a little longer than expected and I didn't start until 11am. 
So that meant, that I had to drive in the mid-day heat. Moreover, I was realizing that I probably wouldn't be able to complete the 80km. It gets dark pretty early in Laos and I had no intention of driving in the dark. I had read that there is a guesthouse in a little village just 25km outside of Luang Prabang and then the next one would only be in 80km in Kiou Ka Cham. There was no option in between these two places. Because of that, I decided that I would only drive the 25km on the first day. Even though the ride wasn't too long, it was still pretty tiring. Right from the start, it went uphill and I was completely drenched in sweat just after a few kilometers. I arrived at the guesthouse around 1:30pm. Of course that was still pretty early, but I also knew that the next part of the route would be very tough and I wasn't sure if I would be able to get to the next stop before it got dark. So, I decided to stay in Xiang-Ngeun and bike the rest of the 80km on day 2. 
Day 2
For day 2 I tried to get up pretty early, so I could escape the heat starting at midday. This plan had worked somewhat well. I had to bike around 55km to the next stop. After reading all the blog posts, I knew this would be the hardest part of the trip. But in the end, I would say that I still underestimated this part. After a few minutes the first incline of the day started. It would go 14km constantly uphill, then 1,5km down just to go 2km uphill again. After finishing the first mountain, it would go down again for 15km just to climb the second mountain of the day with 20km uphill.
The hills were very fairly steep and I was moving forward in a pretty slow pace. The fact that I was carrying my whole luggage with me also didn't help on the uphill parts. I was pretty happy when I finally finished the first mountain of the day. Unfortunately, now it began to be very hot again and I would have to drive with this heat for the rest of the day. After the first climb, the downhill part was nice and fun, but of course it ended way too fast. So, now it was time for the last mountain of the day with 20km uphill. I was already pretty tired from the first climb and thought I was moving even slower than before. I was stopping for water breaks every 5 minutes and as soon as I went back on my bike, it didn't take long until I was exhausted again. It pretty much went something like this, on the first half up the mountain.
At about half way up, there was finally a stand on the side of the road selling water. I was very happy to see them and buy water since I had almost used all the water I had with me. At the same time, a local family was also making a break. They had an old pick-up truck. Since, I was so exhausted and I just wanted to get to the next guesthouse, I decided to ask them if they could take me there with their truck. I knew it was only 10km away, so the drive would be fairly short. Even though, we didn't speak the same language we could communicate. I was telling them the name of the village I wanted to go to and also tried to tell them that Vang Vieng would be my ultimate destination. I was very happy when they agreed to give me a ride.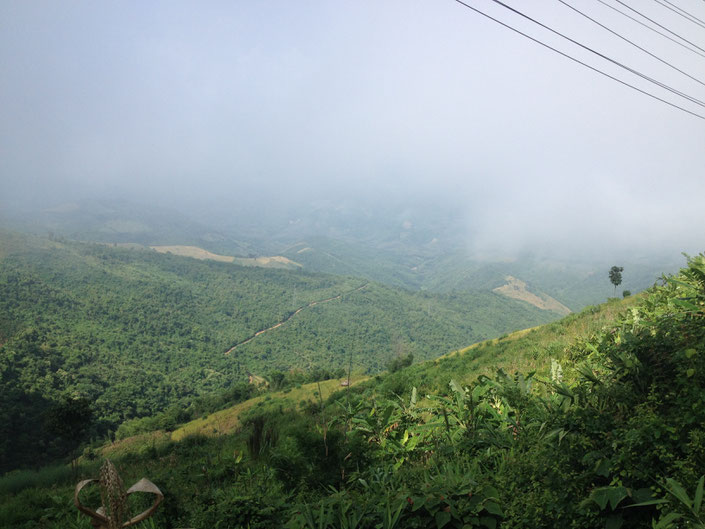 Hitch-hiking with a lao family
My bike and my luggage was put in the back of the truck and I sat next to it. With me, 3 of the family member sat in the back as well. With a completely full truck we took off. Since I knew the next guesthouse wasn't that far away, I expected the drive to be fairly short. We did arrive in a village after just a couple minutes of driving, but to my surprise we didn't stop. I was a bit unsure, but thought maybe it was in the next village. But then for the next hour we didn't drive through any other village and I started to be a bit worried. Thinking about my conversation with the family earlier, I remembered that we talked about Vang Vieng as well. Would they really take me all the way to Vang Vieng? That would be quite a long ride. The more time passed, the more confident I was that they would take me all the way to Vang Vieng. Just for a short moment I was a bit unsure again. We stopped in a little village and they were greeting some friends or family and got out of the truck. Did we arrive the destination of the family and would they drop me off here? I had no idea where I was.
Lao Dinner
But it turned to be just a stop for dinner. They actually invited me to sit down with them and eat. On a little round table was a bowl with sticky rice and around it little other bowl with various sauces. We sat on the ground and ate with our fingers. You form the sticky rice into a little ball and then dip into one of the sauces. The also ate chili peppers as kind of a snack, but I politely denied them since I wasn't sure how spicy they would be. After the dinner, we said bye and the trip continued. Later at night, around 10pm, we finally arrived in Vang Vieng. They helped me to get my stuff off the truck and I thanked them again and then we went separate ways again.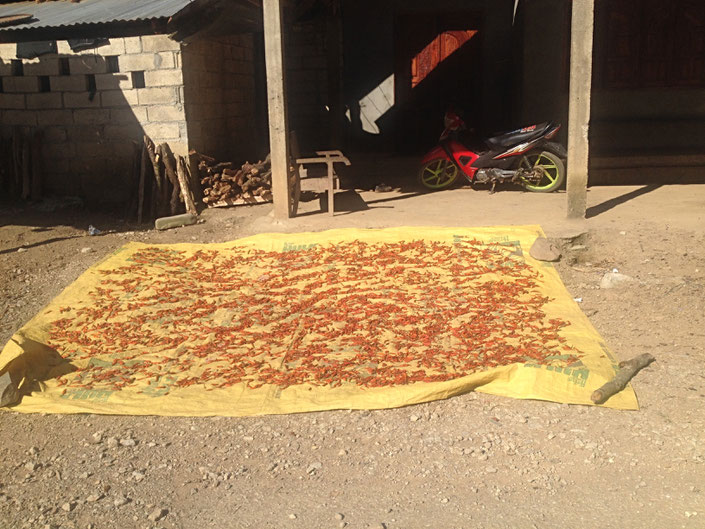 Conclusion
My bike trip ended a lot quicker than I had planned, but I wasn't really upset about it. In the 2 days I drove around 80km, mostly uphill and constantly carrying all my luggage with me. With the extrem heat and humidity, I went to my limits and was completely exhausted. That I met this lovely lao family was pure luck and such an amazing experience. Even though they didn't know me, they gave me a ride and even invited me to dinner. On the back of truck, I could relax and enjoy the view and the sunset. The next day, I went around Vang Vieng talking to a couple of bike rentals if someone would be interested in buying my bicycle. It took a bit of talking, but eventually I found someone who wanted to buy it. So, in total I had the bike for 4 days and a great adventure that I will always remember.